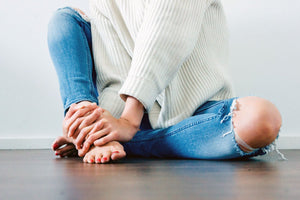 Comfycore: An Aesthetic Trend Tailor-Made for Midlife
By Elisa Yip
Take 20% off at Sskein with offer code JOYLUX20
offer expires 3/31/23 — sale products excluded
The winter months can be cold, long and dreary. We have paired up with one of our favorite designers to share some ideas for brightening up your wardrobe. To help keep you warm and stylish, we are sharing this season's popular trend, Comfycore. 
"An aesthetic that relates to the feeling of being comfortably at rest with your surroundings, neatly fit in your place, relieved and well-suited."
No, we're not going back to the Covid days, wearing only stretchy leggings and baggy sweatshirts. We're talking about the art of feeling comfortable in your clothing and in your own skin while also looking chic. Surrounding yourself with things that make you feel good as you navigate the changes of perimenopause or menopause. 
We styled four women between the ages of 30s-60s to show how to address the Comfycore trend by taking cozy knitwear pieces and styling them with their closet staples. They were able to rediscover their unique personal sense of style all over again. This is not to say you shouldn't wear whatever makes you feel great, no matter your age. We simply wanted to share some variations from real women in mid-life who inspire us.
CORTNEY - Age 37
A photographer and fashion blogger by trade; a mama and wife at heart. As a woman in her thirties and an advocate of "elevated basics", she defines her wardrobe of high-quality timeless essentials and discovers many ways to (re)style them.
Cortney wears a Shawl Neck Long Baby Alpaca Cardigan over a bodysuit. Make this look edgy by styling it with some sassy leather pants and zipped booties. This outfit is perfect for a night on the town with friends, keeping cozy and comfy while still making a statement. 
Another fabulous option is a pullover with wide leg trousers, paired with a long belted trench. The shades and belt bag add major cool factor to this elevated look.  
JEN - Age 45
A mom of three working in the corporate world, Jen leads a busy life. As a woman in her forties, she expresses the importance of being comfortable, while feeling confident in her femme boho-chic outfits. She's the perfect example of Comfycore style for the perimenopausal woman — with an emphasis on layering in case an unexpected hot flash arises.
Jen has on a long cardigan with a printed blouse tucked into a pair of flare leg ripped jeans. Casually-chic and understated, but still looks put together for those PTA or zoom meetings.
DAWN - Age 52
Dawn, a mom to young adult kids and a fashion blogger, encourages women to feel good in their own skin. She pushes the boundaries in fashion by defining her style as "classic with an edge".
A jumpsuit can be daunting to put on (or take off), but think of it as a stylish grown-up onesie you can lounge around the house in. Dawn has on a Black Wrap Neck Jumpsuit by contrasting it with slip-on leather loafers, a perfect comfy and casual look. Trade the shoes with a pair of black leather pumps, and you're ready for a night on the town.
Make it monotone with a head-to-toe grey outfit with a Grey jumpsuit and quilted zip jacket. Keep it Comfycore with a pair of basic black leather boots  you can feel good walking all day in.
LISA - Age 60
A fashion writer, mother, wife, and small business owner, Lisa isn't afraid to step out of the box when it comes to her style. She hopes to inspire other women to do the same as they embrace life after menopause.
Turning sixty this year, she acknowledges that her age shouldn't limit her creativity with her outfits, by mixing luxury and contemporary pieces.
Here Lisa is embracing her inner Carrie Bradshaw, by styling a boxy pullover with a long tulle ruffle skirt. Pairing this outfit with a fun scarf and sassy boots , creates a soft, flirty, feminine look.
Lisa shows easily how to create an entirely new look by restyling her pullover with a pair of skinny leg blue jeans and of course, some Converse high-tops. A casual chic outfit for every day!
Whether you're in perimenopause, menopause, or beyond, there are easy ways to style yourself that let your personality shine through—and stay comfy, too!