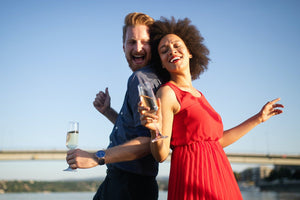 Date Your Mate! Making Time for Romance
Being married for a long time, you become content and comfortable with someone who once gave you butterflies. But that's no reason to let go of those romantic things that couples do at the beginning of a relationship. Romance is important at every stage in your life together, but over time, it can take some effort to remember to make each day special. You get used to each other's routines, favorites, and style, but you can still set each other's hearts aflutter if you take the time to create a special night together.
Why Its Important to Make Time to Date Your Partner
Making time for dates is an important part of remaining connected and engaged after many years together. You can rekindle the spark and show your partner that they are still the most important person in your life just by spending a dedicated day together doing things you both love.
Dating your mate rebuilds the strong connection you felt at the beginning of the relationship. It can help to relieve stress by taking time to enjoy each other, and can remind a couple who has gotten comfy that there is still excitement to be found holding hands and having adventures together.
Going on dates can break you out of a boring or stressful routine, and it can help you to fall passionately in love with your partner all over again to see them in action, planning dates, and showing off your best selves for each date night.
Creative Date Ideas for Couples
Exploration Date Ideas
Walk a Local Festival Together: Walk hand-in-hand through an art walk, a local festival, or a seasonal carnival together. Explore the unique local vendors, eat food from booths, and take tons of pictures of each other.
 
Discover Your City's Museums: Explore the incredible (and affordable) attractions your city has to offer in local museums, botanical gardens, or the aquarium. Discover beautiful sights and interesting facts to rediscover wonder together.
 
See a Show Together: Get dressed up and go see a show, whether you both prefer comedy, theater, or musical performances.
 
Get Crafty Together with Painting or Pottery Classes: Get creative. Try a Paint & Sip class, join a pottery workshop, or even try woodworking together.
Outdoor/Adventure Date Ideas
Drive a Scenic View and Pack a Picnic: Take a scenic drive to a breathtaking spot and enjoy a picnic there. Rekindle your romance by looking over an incredible view and sharing a beautiful car trip out and back.
 
Take a Road Trip: If you have always enjoyed travel, open the conversation channels on a long road trip. Go somewhere you've been before or discover somewhere new. Book a hotel with good room service and stay in or explore the nightlife of a new and interesting city together.
 
Go On a Hike or Bike Ride Together: Get your endorphins and your romance pumping at the same time with a gorgeous hike or shared bike ride. You can head to the woods or just strap on your walking shoes and explore your own neighborhoods.
 
Go Indoor Rock Climbing: Challenge each other to new physical feats by going rock-climbing together at an indoor wall. Laugh as you harness up, cheer each other on, and try your best to ring the bell at the top.
 
Go Kayaking or Paddleboating: If you love the water, try going kayaking together or work together in a paddleboat.
At-Home Date Ideas
Bake Something Together at Home: Stay home and try to bake something sweet. Work together to prepare ingredients and complete a recipe that you both will love. Then clean up and enjoy your treat while snuggling in delicious victory.
 
Grill Up in the Backyard: Throw your own little barbecue by grilling together in the backyard, perfecting your cooking skills and enjoying the delicious results!
 
Share a Trivia Night: Try trivia games and escape rooms. Challenge each other to stretch your minds and work together to solve problems. Or bust out your board game cabinet and rediscover childhood fun.
 
Build a Blanket Fort for Movie Night: For two people who want to snuggle over the weekend, a movie night can be the perfect date. But instead of just collapsing on the couch, make it special by first building a blanket fort, then toss popcorn at each other and share candy over your favorite movies.
Beyond the Date: How to Stay Connected
One date night can help a long-time couple break out of the familiarity and see each other as exciting and special. But how do you maintain that rekindled connection between and beyond your date nights? Couples can always make an effort to stay connected by taking time for one another, sharing affection and consideration each day.
Small Gestures of Affection
Small gestures can mean more than you realize to your partner. A peck on the cheek, a lingering hand on their shoulder, or a compliment when they look nice can leave your partner glowing all day, even though you've been together for years. Remember to grab their favorite treat from store or leave little love notes in their often-used items to show that you think of them fondly many times during your day.
Take Time for Conversation
When two people know each other very well, conversation often becomes more unspoken than spoken. But conversation brings us together. Find times and situations where it's easier for the conversation to flow. Take walks or drives together, sit on the porch, or watch something you both enjoy talking about to help maintain that open flow of communication.
Set Aside Time Each Day and Week
Make time for each other. Try to share at least one meal a day, and at least one day a week where you will typically spend time together. It doesn't have to be a date night, just a special time that you spend together.
Become a Part of Each Other's Goals and Interests
Couples often split off for separate hobbies, but you can also play a role and show you care. You might make time to help your partner with a hobby, or attend an event with them every now and then. If you share interests, plan a few projects together and use them to spend quality time getting excited about something new each week, month, or year.