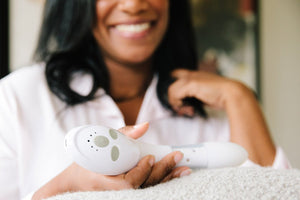 The Device that Improves Women's Intimate Wellness
It's no secret our bodies change a lot as we get older. We lose hair in places we want to keep it, while new hair sprouts up in the least expected places. Lines appear on our faces, and we experience the list of things that our mothers warned us about.
But one thing we don't hear about often enough is the changes to our sexual health and intimate wellness due to menopause. Women suddenly experience issues such as weakening of the pelvic floor, vaginal dryness, and pain with intercourse interfering with sexual pleasure and sensation. For years, women had to grin and bear it or opt for expensive procedures that may come with extended downtime.
Made with menopausal women in mind, our founder Colette Courtion teamed with an Ob-Gyn and laser and light scientists to create vFit, our intimate wellness device. We wanted to help address the life-changing issues common with menopause- from the comfort of home. vFit is an at-home vaginal rejuvenation device that uses a combination of red light, gentle heat, and sonic vibration technology. It's designed to strengthen the pelvic floor and stimulate vaginal tissue.
Let's take a look at how this intimate wellness device works to help you decide whether it's right for you.
How Exactly Does vFit Work?
This intravaginal device uses six high-powered UV-free, red LED lights that stimulate vaginal tissue to help strengthen the pelvic floor. Plus, its heating function warms tissues to encourage blood flow. It offers six different modes of sonic technology to stimulate vaginal muscles and help strengthen.
We like to think of it as a device that does all that heavy Kegel work for you but also stimulates the tissue in the right way to take away any confusion.
What Do Customers Say about vFit?
Ninety-five percent of women who participated in a 3rd party study who used vFit for 60 days reported improved vaginal health and wellness. They felt comfortable using the device, which translates to results without a huge learning curve, unlike some other more traditional practices for restoring sexual health.
In the same study, 91 percent of women felt increased natural hydration and 89-percent of participants reported increased sensation. 100 percent of the women felt more confident and emotionally connected with their partners. If you ask me, that is a huge win for women!
I encourage you to learn more about our sexual wellness device vFit, along with all the other great products in our line. Intimate wellness extends beyond sexual health and can improve your overall happiness and quality of life.