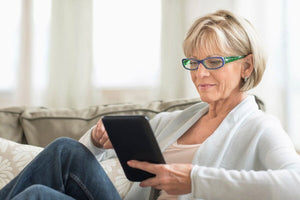 It's time we had 'the talk'
You've got big questions about your personal health. But it's not always convenient or realistic to book an appointment with your doctor to find answers. 
That's why we put together a list of our favorite resources that provide insights around menopause, sexual wellness, and overall health.
Favorite Podcasts
The Girlfriend Doctor: Dr. Anna Cabeca says "I'm the first call for the woman who has questions she would only ask her best girlfriend – if her girlfriend were a Triple-Board Certified OB-GYN." Her podcast is a wealth of information on all topics related to menopause, breast health, relationships, and more.  
Not Your Mother's Menopause: Dr. Fiona Lovely has been helping women with their hormone and life challenges for over a decade. She brings her expertise in restorative endocrinology, functional neurology, and functional medicine to her podcast, covering an array of topics important for women's health. 
Favorite TED Talks
Sleep, sex, and menopausal zest: Dr. Karen Adams is a Professor of Obstetrics and Gynecology and Director of the Menopause and Sexual Medicine Program at OHSU. She wants every woman over 45 to learn how to live a life of "menopausal zest". 
Still Going Strong: Sexuality in Older Adults: Dr. Tuuli Kukkonen encourages viewers to explore the positive relationship between sexual function and quality of life no matter our age. 
Favorite Support Groups
Menopause Chicks: This group helps women navigate perimenopause and menopause with confidence. They tackle tough topics and confusing information in a meaningful way so women feel empowered to make the right choices for their health.   
Red Hot Mamas: This organization leads the pack when it comes to educating and supporting women through menopause. The offer in-person services and a supportive online community where you can ask questions to experts. 
Favorite Blog
Joylux: Did you know Joylux publishes more in-depth articles on our blog to help you navigate your sexual health and wellbeing? Explore hot topics, learn about experts we admire, and get up-to-date information on our products and services. 
Do you have a resource you love or recommend to your girlfriends? If so, send us a quick note so we can add it to our list.