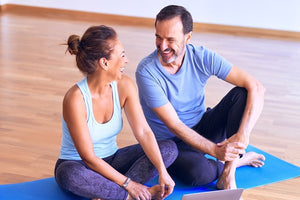 Rediscovering Your Relationship After Your Kids Move Out
Your youngest child flew the coop and suddenly you are home alone with your partner. Though you've spent many years together anticipating this day, you wonder what to do now. Do you travel together? Remodel the house? Take up new hobbies? 
If you're like many couples, you'll question whether you have anything in common now that it's just the two of you. You've spent plenty of years focusing on the kids, and it's time to focus on each other — but also a time to discover new things about yourself. This adjustment is a delicate balance, and here's what to consider as you move into this new life stage.
Try New Hobbies Together and Apart
Now that the kids are gone, you may want to jump into new interests. This is a time to embrace adventure, but don't run off just yet. It's important to find activities that you enjoy with and without your partner. If you start to spend all your free time partnerless, it may drive a wedge between the two of you. 
Support each other's hobbies, but find at least one thing to do together. Make it part of your weekly routine and put it on the calendar. You may need to compromise a bit, so be honest with each other about what you do and don't want to try.
Reconnect In The Bedroom
It's not uncommon for sex to dwindle when you're raising a family. If you and your partner feel disconnected, now is the perfect time to rekindle the flame. Start by scheduling regular date nights — no phones and no distractions. Get dressed up and go places outside of your usual routine. 
Now that you have a lot more freedom, you may want to use this time to explore sexually. Open up a dialogue with your partner about what you like and what makes you feel good. Also, be candid if your needs have changed as you get older. Oftentimes, communicating your needs to your partner leads to increased sexual pleasure for women, which can create a deeper connectio
Spend Plenty of Time Laughing 
Laughter is one of the best ways to build intimacy. Find time to play together outside of your regular routine. It's easy to get wrapped up in changes you want to make around the house or new hobbies. But the simple pleasure of being silly together can go a long way when it comes to building intimacy. Break out your favorite board game, look at old photo albums, or head out for a night at the movies for a romantic comedy.
Practice Plenty of Self-Care
You've spent a good deal of your life taking care of others. You may have held off taking care of yourself. Now is the perfect time to put yourself first. Women's intimate health should take the form of establishing a routine that sets aside time for you every day. Whether you want to get regular massages, book appointments at the nail salon, spend more time reading or take up meditation. 
Put yourself on your weekly schedule along with all of your other new activities. Hold yourself accountable and communicate with your partner what this time means for you. It's also important to encourage your partner to do the same. A little "me time" can help you build a better bond with your spouse.