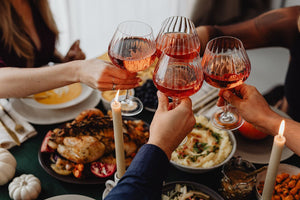 Thanksgiving Tips for a Memorable Celebration
Thanksgiving is a time for gratitude, togetherness, and, let's not forget, some seriously delicious food! Whether you're a seasoned host or gearing up for your first time hosting, these tips will help you prepare for a day filled with warmth, joy, and a whole lot of deliciousness.
1. Plan Ahead
Start early! Create a game plan for your menu, guest list, and any decorations or table settings. This will help you stay organized and reduce last-minute stress. Consider dietary restrictions or preferences your guests might have and plan your menu accordingly.
2. Get Creative with Recipes
While traditional dishes like turkey, mashed potatoes, and cranberry sauce are classics for a reason, don't be afraid to add your own twist. Experiment with new recipes or put a unique spin on old favorites. Incorporating a variety of flavors and textures can elevate your meal and make it even more memorable.
3. Delegate and Collaborate
Don't be afraid to ask for help! Assign tasks to guests or family members. It can be anything from bringing a side dish or dessert to helping with setting the table or assisting in the kitchen. Sharing the workload not only eases your burden but also brings everyone closer together in the preparation process.
4. Create a Welcoming Atmosphere
Set the mood by decorating your home with festive touches. Consider using autumnal colors, centerpieces made of seasonal produce, or candles to create a warm ambiance. Music can also add to the atmosphere—choose tunes that are upbeat and celebratory.
5. Practice Gratitude
Thanksgiving is all about expressing gratitude. Before the meal, consider having a moment where everyone shares something they're thankful for. It's a beautiful way to center the day around appreciation and reflection.
6. Embrace Imperfections
Things might not go exactly as planned, and that's perfectly fine! Embrace the imperfections and remember that the most important thing is spending quality time with your loved ones. Laugh off any mishaps and focus on creating cherished memories together.
7. Take Time for Yourself
In the hustle and bustle of hosting, don't forget to take a moment for yourself. Whether it's a short walk outside to enjoy the crisp fall air or simply sitting down to breathe deeply, giving yourself a moment of relaxation can recharge you and help you fully enjoy the day.
8. Leftovers are Your Friend
Prepare containers for leftovers in advance. They make for great next-day meals and can be creatively repurposed into sandwiches, soups, or casseroles. Share the extras with guests or keep them for yourself to enjoy over the following days.
9. Express Appreciation
After the meal, take a moment to thank everyone for joining and helping. A small token of appreciation, like a handwritten note or a thoughtful message, can go a long way in expressing gratitude.
10. Cherish the Moments
Lastly, savor the moments. Put away the distractions, be present with your loved ones, share stories, laugh, and create lasting memories. These moments are what make Thanksgiving truly special.
With a little planning, a dash of creativity, and a whole lot of gratitude, your Thanksgiving celebration is sure to be a fantastic gathering filled with warmth, love, and delicious food. Happy Thanksgiving!