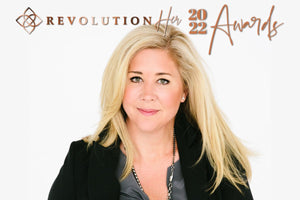 Colette Courtion selected as a finalist for the 2022 RevolutionHER™ Trailblazer Award
The Top 36 finalists have been selected for this year's 2022 RevolutionHER™ Awards.  One of North America's most distinguished and globally recognized awards for women-identifying change makers, impact leaders, entrepreneurs and youth, the RevolutionHER™Awards introduces some of the fastest-growing and most impactful North American lifestyle brands, businesses and nonprofits to the world.
This year, over 1,500 women were nominated and a selection of 200 Top Nominees advanced, gaining over 40,000 public votes within one week, as well as accumulating impression ratings from a selection committee, helping to narrow down the finalists roster.
Local resident, Colette Courtion, of Joylux has been named a finalist in the Trailblazer category. The task of determining who will win one of the five awards being presented at this year's 2022 RevolutionHER™ Summit will now be left up to an expert panel of judges.
Joylux offers a platform of life-changing solutions with high-tech devices, digital tools and products that address menopausal-related health concerns. The company's mission is to help women find delight in their lives, through all phases of menopause.
Being announced as a finalist in the RevolutionHER Awards provides Colette and her company a new platform to share educational information, connect women with solutions for their concerns, and eliminate the taboo surrounding menopause.
Finalists will be scrutinized by an expert panel of respected judges, based on criteria such as innovation, commitment to community, growth and scalability, leadership, and inspiration to others, in five (5) award categories:
RevolutionHER™ Trailblazer Award (women who show dedication and commitment to community, and the overall betterment of people and/or planet locally or globally);
RevolutionHER™ Impact Award in Entrepreneurship (entrepreneurs who make an impact by leading and/or inspiring others locally or globally);
RevolutionHER™ Impact Award in Leadership (Leaders, volunteers or employees who make an impact by leading and/or inspiring others locally or globally);
RevolutionHER™ "Momentum" Award for Small Businesses (innovation and leadership in a product or service-based business);
RevolutionHER™ Community Vision Award for Youth (Recognizing female-identifying youth between the ages of 12 – 20 years old, operating as a volunteer, philanthropist, or entrepreneur).
The 2022 RevolutionHER™ Awards winners will be announced at the 2022 RevolutionHER™ Summit taking place LIVE in Toronto, ON at the Fairmount Royal York from Friday September 23rd through Saturday September 24th, 2022.