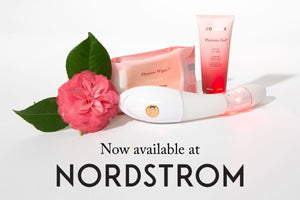 Joylux Teams Up with Nordstrom to Offer Innovative Women's Intimate Health Products
Joylux
, a pioneering women's intimate health company known for its revolutionary red-light 
vFit Gold
 smart device, which provides relief from common intimate health issues women face during menopause, proudly announces its partnership with 
Nordstrom
.com. This collaboration extends Joylux's premium offerings to a wider audience, with Nordstrom customers now able to purchase vFit Gold and other cutting-edge women's health products on Nordstrom's trusted platform.
At Joylux, empowering women to take control of their intimate health and overall well-being through state-of-the-art red-light therapy devices, digital tools, and skincare products that are non-hormonal, clean and natural, is at the core of their mission. This vision aligns seamlessly with Nordstrom's commitment to offering exceptional products that enrich the lives of their customers.
The inclusion of Joylux's products on Nordstrom's website marks a momentous milestone for the company, expanding its reach beyond Ob-Gyn's and medical health professionals as well as specialty stores. Collaborating with Nordstrom, known for its exceptional customer care and quality products, presents an opportunity to improve the quality of life for more women.
"We are thrilled to partner with Nordstrom to bring our women's health products to their customers," said Colette Courtion, CEO of Joylux. "Nordstrom's commitment to offering the best products aligns with our mission to provide innovative and effective solutions for women's intimate health. We believe this partnership will enable us to reach more women who seek to improve their well-being and regain their confidence."
Joylux's flagship product, vFit Gold, with tens of thousands of highly satisfied customers, has garnered widespread acclaim for its groundbreaking approach to women's intimate health concerns. With patented red-light technology and years of research and development, vFit addresses vaginal health struggles that are often overlooked or stigmatized as women go through the change of menopause. Joylux's comprehensive product line covers a range of intimate health needs, ensuring that women can find support and solutions that are 
non-invasive and hormone-free.