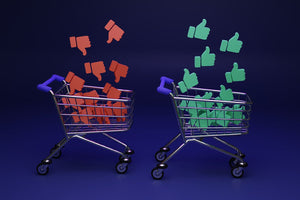 The Double Standard in Sexual Health Advertising
This week, two sexual wellness startups held a protest in New York City to highlight Facebook's unfair advertising standards for health companies focused on women, trans people and non-binary people.
We wholeheartedly support our friends at Dame Products and Unbound for taking a stand and taking on Facebook. At Joylux, we can relate to their struggles as we work to promote women's sexual health but continue to face discrimination. Our advertisements are medical in approach and we target a mature audience, yet our ads are constantly rejected.
We have tried to work with Facebook.
Silence.
We believe that women need and want to be educated on all of the issues that are critical to our health. Women's health is less studied and less discussed in our culture, and this leads to a gap in education for all of us. It also means that men's health and wellness is more normalized in our culture. Some of the ads for men's products that Facebook has approved include erectile dysfunction pills, condoms, penis pumps, and 'manscaping' products. Do those seem more "acceptable" than an intimate wellness device or a vibrator? 
It wouldn't be a surprise to learn that the majority of advertising decision makers at Facebook aren't women or non-binary people. As with all things in life, we believe that a balanced approach works best. Women need a seat at the table, and if we were better represented among the decision makers at Facebook, we doubt that our ads would be rejected. What do you think?

Through education and awareness, we can find equality. We need to talk about these issues and break the taboo. Let's join these awesome women in talking about the issues that affect us. There's no shame in conversation about our health. #LetsTalkAboutIt