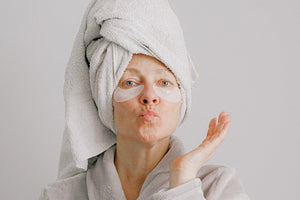 6 Dermatology Treatments to Get Your Glow Back
We believe that we are all beautiful, just the way we are. While some women embrace aging with grace and confidence, others invest in treatments to help them feel younger. We encourage you to do what makes you feel your absolute best. From topical serums to in-office procedures, you have plenty of options to help address cosmetic anti-aging concerns. If you, like me, are fighting aging every step of the way, we've put together a list of some top-trending dermatology treatments to help restore glowing, youthful skin.
Our skin tells our life story. Weekends on the beach, years of laughter, and a few heartaches are etched on our faces. In addition to sun and environmental damage, we also experience loss of collagen, age spots, and skin dehydration due to hormonal changes. Thanks to the development of skin rejuvenation techniques, we no longer have to go under the knife to look as young as we feel.
Top 6 Non-Surgical Anti-Aging Treatments
Retinoids- Topical vitamin A-based drugs called retinoids are highly studied and have long been a staple in anti-aging skincare routines. They can reduce fine lines and wrinkles by increasing the production of collagen. Plus, you may notice an improvement in skin color, fading age spots, and softer skin. It can take 3-6 months before you see improvements.
Botox- Whether it's Botox, Dysport, and Xeomin, injections of botulinum toxin are popular, affordable, and can help reduce fine lines and wrinkles in the face, brow, and neck. It works by relaxing muscle tension through slight paralysis. It can take 2-14 days to see the effects and may last up to six months. One downside is the more you use it, the more you have to use it. So, over time you may have diminishing returns on your investment.
Soft Tissue Fillers- Fillers have become the new facelift. Cosmetic specialists can reshape your face using different fillers and techniques to lift, plump, and brighten different areas. Some fillers, such as hyaluronic acid, absorb into the body after a short period. Others contain tiny beads of solid materials suspended in a gel that is absorbed over time. Depending on how much filler you get, it can last six months to 2 years.
Chemical Peels- Peels treat several cosmetic issues, including spots, wrinkles, fine lines, discoloration, and superficial scars. An acid solution applied to the skin will dissolve skin cells, which removes the top layer of the epidermis. Your skin care specialist can vary how deep the peel goes by adjusting the type of solution and the strength. Peels often come in a series over a specific duration of time, and refreshers are recommended based on your needs.
Laser Resurfacing- A variety of laser therapies address different skin issues, including deep lines and wrinkles, skin tone and texture, and skin tightness. They work by targeting skin cells within different layers of the skin. It's important to talk to your specialist about your needs, so you get the proper laser treatment. Laser treatments are typically done in series and have short downtimes. A more intense laser may have you hiding indoors for a few days.
Dermabrasion- Dermabrasion is a peeling technique that uses a rotating instrument to remove the outermost layer of the skin. It's often thought of as a less invasive facelift, and it's a more intense treatment than chemical peels. Dermabrasion is often used to treat scarring and remove fine lines. You can have it done in specific areas or all over the face. Recovery time may take up to a week, and the effects of the treatment improve your skin over several months.
What to Consider When Choosing Anti-Aging Dermatology Treatments
These are only a few of the options available to help restore a more youthful appearance. We recommend consulting with a dermatology or cosmetic specialist to find what's right for you. Talk about the risk of these procedures and the benefits— and make sure you understand the realistic outcomes.
Some procedures require several treatments to be most effective, while others require a few visits a year for maintenance. Remember your insurance doesn't cover cosmetic procedures. So, budget and price may factor into your decision-making process.