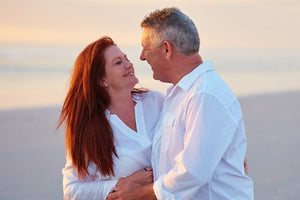 Dating, sex, and intimacy as an older woman
Are you thinking about re-entering the dating scene later in life? Feeling like a fish out of water is entirely normal. After all, a lot has changed since your 20's. It may be hard to meet singles your age, and the new era of dating mostly happens online.
If you're used to being in a long-term marriage or partnership, the idea of online dating, speed dating, and going out with someone new can feel overwhelming. Add in the nerves of being intimate again and having sex during or after menopause—and you may want to trade in that red lipstick for fresh pajamas and an evening on the couch.
We're here to put those fears to rest. Dating can be a fun new adventure, and unlike in your younger years, the pressure to build a life and start a family has passed. This means it's finally time to date on your terms, explore sex in a whole new way, and stay true to your independence.
Navigating The New Online Dating Scene
More than one-third of Baby Boomers are single. As life expectancy increases, so does the chance of getting divorced or losing a partner (though some people simply never marry). But this also leaves open the possibility to re-partner later in life.
If you've been married in the past, you may long for the old days of dating. The days when you met partners through friends, colleagues, and shared activities. It seems people are less likely to approach someone in public, and most older people spend time as couples. So the chance of meeting singles in the wild isn't as likely—which brings us to online dating.
Online dating has a learning curve, but it can be a good way to meet new people. You're no longer constrained to your social circles and have a great chance to meet others who enjoy the same activities. When it comes to online dating, you have options for more traditional sites like Match.com and eHarmony. Plus, there are now dating apps on your phone, like Bumble, Tinder, and Hinge.
The popularity of dating sites depends on locations. Some sites have more users in certain regions, so there's no single app that's better than another. However, older adults find paid memberships like Match.com and eHarmony a better place to meet those looking for a relationship. Dating apps like Bumble and Tinder tend to be more casual and only require memberships for upgrades.
Dating, Intimacy, and Sex As An Older Woman
Once you find a compatible partner (whether casual or serious), the fun begins. Intimacy and sex when dating as an older woman are different than your younger years. But it can also be some of the best sex of your life.
Of course, sex can come with some physical challenges. Older men may experience difficulty with erections or loss of libido. As a woman, you may experience loss of natural lubrication, pelvic and vaginal pain, or difficulty achieving orgasm. But there are plenty of ways to enjoy sex if these situations arise.
It's important to redefine what sex is as we age. This is the perfect time to explore each other in new ways that you find more intimate. You may also find that older men are more aware of your needs and find creative ways to make the experience enjoyable. Plus, it's likely that you both have fewer inhibitions and are willing to explore fantasies, try new toys, and role play.
When it comes to vaginal intercourse, it's important to take your time. Men may use medication to support healthy erections, and you have options, too. Talk with your healthcare provider about low-dose hormone support. For healthy vaginal lubrication, we recommend using an intimate water-based lubricant—and supporting vaginal tissue health with our intimate care line.
Dating as a strong, independent woman free of constraints is liberating. Go out and have fun dating without pressure while enjoying the beautiful life you've built for yourself.