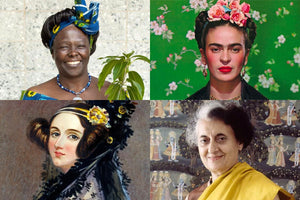 Women's History Month: 4 Inspiring Women Who Changed the World
Happy Women's History Month!
As we celebrate women throughout history and all around the world, let's take a moment to recognize and celebrate the incredible women who have shaped history as we know it. The stories of four female trailblazers: Wangari Maathai, Frida Kahlo, Ada Lovelace, and Indira Gandhi, four women who are examples of courage in the face of adversity. From environmental conservation to art to computing and politics, these remarkable women have inspired generations with their bravery and accomplishments.
How March became Women's History Month
Women's History Month began in 1981 when Congress passed a Joint Resolution proclaiming the week of March 7, 1982, as National Women's History Week. The purpose of this was to recognize and celebrate the contributions of women to history and society. This continued until 1987 when Congress declared the entire month of March as Women's History Month. The goal of Women's History Month is to honor and recognize the invaluable contributions made by women throughout history and in the modern world. Each year, Women's History Month provides an opportunity to honor and reflect on how far women have come, while also recognizing that there is still progress to be made. 
1) Wangari Maathai
As a Kenyan environmental and political activist, Wangari Maathai dedicated her life to fighting deforestation and soil erosion. Maathai founded the Green Belt Movement in 1977, a non-governmental organization focused on reforestation, sustainability, and empowering women to combat environmental degradation by planting trees and shrubs.
Her commitment to protecting the environment had a major impact on the lives of Kenyan women and their communities; she recognized that providing rural women with access to resources was essential for conservation efforts and human development. Maathai was also active in politics and served as the assistant minister for the Environment and Natural Resources of the Republic of Kenya from 2003-2005.
In 2004, Maathai was awarded the Nobel Peace Prize, making her the first African woman to receive the honor. During her acceptance speech, she declared that "Peace on Earth depends on our ability to secure our living environment". This recognition was a testament to her incredible work in preserving natural resources in Africa and beyond. Maathai's legacy continues to inspire many with her profound contributions to conservation efforts and her unwavering commitment to justice and equality. 
2) Frida Kahlo 
Born in 1907, Kahlo was an iconic painter whose self-portraits are some of the most recognizable images of the 20th century. As an artist, she is known for her Surrealist works; and she is celebrated as a feminist icon for challenging traditional gender roles with grace and strength through her art and life.
Kahlo's life was full of tragedy and hardship. At the age of six, she contracted polio, which left her right leg permanently damaged. As a young adult, while a student in medical school, she suffered a serious accident that resulted in multiple fractures throughout her body and a broken spinal column. The injuries she sustained left her unable to return to school. Unable to finish medical school and with life-altering injuries, she struggled with depression and a feeling of hopelessness. Turning to art to express her feelings, Kahlo painted over 140 works of art, primarily self-portraits, which represented her struggles and emotions while also providing insight into Mexican culture.
Her legacy of courage, resilience and her unwavering commitment to art and justice lives on today, not only through her beautiful artwork but also through her advocacy for women's rights and support of Indigenous rights. 
3) Ada Lovelace 
 Born Augusta Ada Byron in 1815, Ada Lovelace was a mathematician and writer who was one of the first computer programmers. Her work included translating a piece by Italian mathematician Luigi Menabrea about Charles Babbage's Analytical Engine, one of the earliest mechanical computers. While she worked on the translation, Lovelace added extensive notes about the potential of using computers for more than just strictly mathematics, making her one of the earliest female pioneers in technology. This female pioneer of computer science, Ada showed tremendous foresight and understanding of the potential of computers, writing "the engine might act upon other things besides number, were objects found whose mutual fundamental relations could be expressed by those operations."
As part of her work on the Analytical Engine, Ada also wrote a detailed description of the concept and created an algorithm for it, which made her the first person to write an algorithm intended to be processed by a machine. This earned her the title of "world's first computer programmer" and has ensured that she is remembered as a revolutionary figure in women's history month and beyond.
Ada Lovelace's work proved instrumental in the development of modern computing and she has been recognized with many awards and honors, including an official day in her honor each October 13th (Ada Lovelace Day) which celebrates the achievements of women in STEM: science, technology, engineering and mathematics. 
4) Indira Gandhi
Indira Gandhi is a legendary figure remembered for her courage, strength, and commitment to justice. As the leader of the Indian National Congress and Prime Minister of India in 1966, she was the first and only female to hold the position in India's history. Her ambition to improve the lives of women and the poor drove her work in social and economic reform, and throughout her career, she was an unwavering supporter of social and economic reforms. Her devotion to making life better for women and the poor has influenced global leaders who strive for gender equality and strive for more inclusive societies.
Indira Gandhi's relentless pursuit of progress on behalf of women and other marginalized groups in India was cut tragically short when in 1984, she was assassinated by her bodyguards. Her death was a huge loss to the country, but she remains a prominent figure in Indian politics and history and serves as a reminder that women can create change when they create their own opportunities.  
Celebrating and Empowering Women 
As we look back on the achievements of women like Wangari Maathai, Frida Kahlo, Ada Lovelace, and Indira Gandhi, celebrate their accomplishments. It's important to remember that the work to create a more equitable future for women is not done. Their powerful legacies have paved the way for future generations of female leaders.