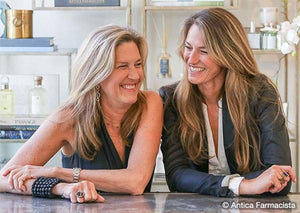 Women We Admire: Susanne Pruitt
Antica Farmacista is a women-owned luxury fragrance company in Seattle, founded by best friends Shelley Callaghan and Susanne Pruitt. With sumptuous scents, quality ingredients, and sophisticated design, Antica fragrances are a sensory delight and a favorite in my home. In fact, I love their products so much that we're offering one of our favorite Antica products – the Orange Blossom, Lilac and Jasmine reed diffuser – as a gift with purchase this month!
For Breast Cancer Awareness Month, I wanted to highlight the story of an inspiring and courageous cancer survivor I admire. When I realized that this disease had touched the life of Antica co-founder Susanne, my admiration for her only grew. Over a decade ago, Susanne was diagnosed with breast cancer at age 42. As a busy woman with an active lifestyle and no family history of breast cancer, Susanne's diagnosis initially came as a shock that upended her life. Among many worries and considerations, she had to decide whether to have chemotherapy, and how much to tell her young sons about her cancer.
Despite – or maybe because of – the life disruption, Susanne has developed an optimistic perspective on what she went through. In an interview with her best friend Shelley, Susanne reflected: "Once I was diagnosed, the world became very small and finite. It all slowed down and became simple. Every word, smile or tear became more important. It was freeing and peaceful."
Many years after her remission, Susanne has continued to hold onto the perspective and wisdom gained by her cancer struggles. In addition to talking publicly about Susanne's experience, Antica proudly supports nonprofits like Stand Up 2 Cancer, making sure that women everywhere have the opportunity to learn and benefit from Susanne's journey.
The whole Joylux team salutes Susanne Pruitt – businesswoman, cancer warrior, and inspiration to us all!