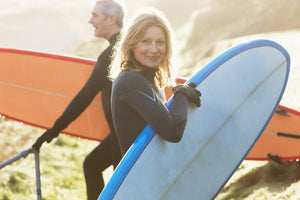 Emotionally & Psychologically Preparing for Retirement
Retirement is something we start planning far in advance. We squirrel away money in funds, map out our dream vacations, and decide what lifestyle we want to live. But how often do we think about the emotional and psychological changes we go through after we leave the office for the last time? 
For many, retirement can lead to loss of identity. So much of our lives revolve around our jobs. Often what we do for a living becomes central to who we are. We may also have to rethink money strategies and consider downsizing our homes, cars, and budgets.
If you're in the early stages of retirement or that final workday is near, here are a few tips to smooth out your transition. After all, retirement can be one of the happiest, most fulfilling times in your life.
Embrace The Ups And Downs of This Life Stage
Like any significant life change, whether it be becoming a grandparent, experiencing menopause, or exiting the workplace, you're going to experience a flood of different emotions when you retire. At first, you may feel endlessly free. However, when that feeling wears off, you'll want to have a plan ready, so you don't get consumed by regret and boredom. 
It's important to allow emotions to show up. When they do, look for healthy ways to manage them — otherwise, you may turn to unhealthy coping mechanisms like food, alcohol, and excessive sleeping. 
Some ways to manage the emotional waves during retirement may include walking, journaling, having regular outings with friends, joining support groups, or talking with a therapist. 
Stick with A Routine 
You've probably been pretty routine most of your life, and retirement shouldn't be any different. Maintaining structure in your everyday life will help ease you into retirement. Have a set time to go to bed, wake up, and keep regular activities planned throughout your week. 
Of course, you'll want time to relax and enjoy the little things in life like an uninterrupted morning with the newspaper and a cup of tea. So, don't feel like you have to be overly rigid and have a jammed schedule all the time. 
Give Back to Your Community
Having a community is huge when you retire, and one of the best ways to find one is through volunteer work. You can dedicate your time, expertise, and skills to local charities and events. 
Make a list of your skills, what you love to do as hobbies, and places you'd love to explore. Volunteering in areas you feel passionate about will bring you joy and allow you to stay connected to others. 
Set New Goals
You probably have a list of things you wanted to accomplish that got pushed to the back burner due to your career. Now is the best time to start checking off things on that list. You may also want to explore new goals.
Your local community colleges and community centers may offer classes that teach you new skills. You can also look at your local paper to find community events, classes, and groups that offer the opportunity to try new things. 
Retirement can be one of the most exciting times in your life. When you look forward to new adventures, learning new things, and exploring the world, the possibilities are endless. Whether you want to learn a new language, travel the world, or even start an encore career — the only thing stopping you is your limitations. 
If you're interested in reading more about how to transition to your next phase of life, our women's health blog has the resources you need.