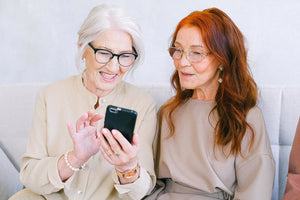 How health apps support overall wellness
If you want to track your health, there's an app for that. Health apps and telemedicine have witnessed tremendous growth over the past several years. Browse your mobile app store, and you'll find hundreds of apps to track everything going on with your body. Plus, more patients and healthcare providers alike turn to apps for patient care since the Covid-19 pandemic.
Wondering if apps are a valuable tool for your health? Let's go over the types of apps you can download to track your overall and intimate health and explore how telemedicine can improve your relationship with your healthcare provider.
What are health apps? 
Health tracking apps fall into three categories:
General health and wellness apps

. These apps may track fitness and nutrition, sleep habits, stress management, and overall well-being. Think of them as accountability tools and ways to collect data about your health so you can make better-informed decisions around your habits. 

Health management apps

. A little monitoring goes a long way when it comes to your health. These apps allow you to track symptoms for health conditions such as diabetes and heart disease. Plus, there are apps to monitor menstruation, pregnancy, mental health, menopause, and more. Using these apps allows you to give your healthcare provider key insights as you can share information remotely.  

Telemedicine apps

. Think of these apps as a virtual clinic for your healthcare providers. They offer clinicians a convenient way to see patients for non-emergency services without a trip to the clinic. Healthcare providers may also order tests, lab work and send off prescriptions through these apps. 
How do health apps support our overall health? 
As technology advances, mobile health apps reduce the number of visits to healthcare providers each year, saving you and our healthcare system a substantial amount of money. Think of apps as a friendly tool for preventative care. 
The more in tune we are with our bodies, the more awareness we have when things change. By monitoring activities, nutrition, and symptoms, you develop better habits that support a quality lifestyle. You can set reminders for things like taking your medication or moving throughout the day. Plus, apps allow us to report critical information to healthcare providers that may typically go unnoticed. 
Is telemedicine here to stay?
More and more healthcare providers rely on telemedicine since the beginning of the pandemic. Patients and doctors alike enjoy having these flexible tools that open up opportunities for better prevention and support during long-term care. 
However, the temporary access provided by the government and health insurance providers needs to become permanent for telemedicine to thrive in a post-pandemic world. We can't predict the outcome, but this new avenue of healthcare is something we only see advancing as more tools come onto the market. 
How can Joylux support health tracking? 
We're excited to announce vFit Gold. Menopause brings about a whole host of changes to your body. Menopause is a beautiful time to experience more freedom and spend more time focusing on self-care. But you may bump into a few frustrations that make menopause less than delightful. 
That's where vFit Gold comes in. Not only does vFit Gold harness the power of red-light to improve vaginal health — it's now paired with an easy-to-use app that tracks progress to promote intimate wellness during menopause. This app helps you understand broader menopause symptoms and provides education on everything from hot flashes to better sex. 
Now technology can help you improve your vaginal health and get back to living life to the fullest. You can learn more about vFit Gold here.