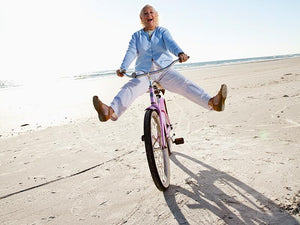 How to Age Well (Hint: It Has Nothing to Do with Wrinkle Cream)
by: Colette Courtion
"I'm glad that I'm not young anymore," sings Geena Davis in her latest role on the hit Netflix show, Glow.
Playing a former Roxette turned Vegas power producer, 63-year-old Davis takes to the stage in a gorgeous showgirl costume, complete with diamond-studded nipple tassels.
It's truly a sight to behold.
But as much as we love Geena, we're not here simply to sing her praises. Instead, we're going to let you in on a little secret:
You don't need classic good looks or a Hollywood wellness budget to feel awesome at any age.
You just need to be ready to own the journey.
What does it mean to age well?
Throughout history, other people (usually men) have taken it upon themselves to decide what it means for a woman to "age well".
We've all heard the subtly condescending comments:
"She looks good for her age."
"You're doing that?! At your age!"
"I can't believe you're having a baby at your age!"
Not to mention the well-meaning, yet painfully misguided, suggestions to cover your grey, hide your wrinkles and start planning your retirement.
It's bogus. And we know it's bogus because: Math.
According to a study by Refinery29 and AARP, some 60% of women said they embrace their age, and 61% said they believe they are beautiful at any age.
It's time to close the gap between what the world wants us to believe about aging and what we actually believe.
As a woman, you—and only you—have the right to set your own bar for what it means to age well.
But with all these mixed messages, where do you even begin?
How to age on your terms
There's no sugarcoating it. There are some very real challenges that come with aging.
From physical and mental health concerns to financial and career hurdles, getting older can test you in ways you never imagined.
But if you think about it, isn't that true at every point on the age continuum?
Whether you're a bright-eyed 18-year-old in your first year of college, a 20-something launching into a brand new career, or a 50-something experiencing your first symptom of menopause—tough transformations are necessary at every stage of life.
The only thing you can control is how you see them.
Here are some questions to ask yourself:
What thoughts do I frequently have about getting older? Are these thoughts really true?
How have my instincts, knowledge and relationships evolved as I've gotten older?
What are three things that are unequivocally better about life now than in my younger years?
How does getting older make me more relevant to the world?
What people, places and activities make me feel great about who I am today?
What have I always wanted to do but never had the chance?
How can I continue to care for my partner, children and friends while finding more time and energy for myself?
Midlife and beyond is the perfect time to explore the things you never had time for when you were too busy taking care of everyone else.
It's time to let drop the old expectations and create the life you always wanted. Whether it's Botox, skydiving or slipping into a barely-there Vegas showgirl costume—never let anyone make you feel like you don't deserve to age well, no matter what that looks like for you.