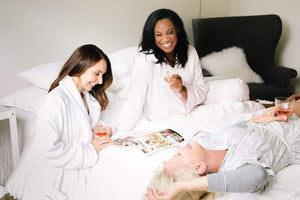 How to be a friend right now
No matter where you're located or what you're personally experiencing, the pandemic has made socializing much more challenging.
It may feel like the right time to test the true strength of your friendships. After all, if someone isn't staying connected and checking in during social isolation, how can they be real friends?
Sure, it's exhausting to be the first to reach out and go days with unanswered messages, all while feeling the weight of keeping your own life together…
… but I urge you now more than ever to move forward with compassion.
We are all dealing with this in our way, and many people you know aren't talking about their struggles.
It's true; friendships are crucial for our health. Science tells us strong relationships influence our health down to a cellular level.
Having close bonds can change your DNA sequencing, support your immune system, and work wonders for your mental wellbeing -- which is all magnificent.
But it's also essential to allow people to be bad friends right now.
And, hey, it's okay if you aren't showing up at your fullest for your friends, too.
The best things you can do to be a supportive friend right now is:
Lower your expectations, but still, make an effort. Send a text without expecting a response. Leave a voicemail, mail a card, or share a photo with good memories. But do this to show you care, and not keep tabs on who responds and who doesn't.
Don't wait. Make the first move, even if it feels like you are always putting forth the effort. We can't honestly know what's going on with people, and now is not the time to pass harsh judgment.
Be okay saying, "no." Self-care is essential now more than ever. Overextending yourself to your friends doesn't make you a better person. It's a form of external validation. And the best way to be a supportive friend is to take care of yourself first.
Don't take things personally. Many of us are settling into new routines. This includes homeschooling kids, working from home, having teleconference calls, and feeling like we are always plugged in. So if a friend cancels a Zoom Happy Hour, doesn't answer your FaceTime call, or needs to unplug for a few days… allow them this space. You'll soon find out that you will want to honor that space for yourself at times.
My final thoughts… we all need each other right now. And this may look different for everyone, which is perfectly okay. Be supportive in a way that works for you, while honoring that it may change from week to week (and even day to day).