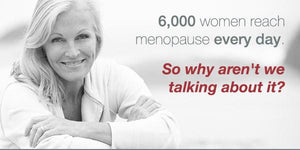 It's Time to Bring Menopause Out of the Closet
by colette courtion
Actor Cybill Shepherd is known to hold her own next to co-stars like Bruce Willis, Jeff Bridges and Robert DeNiro.
But when the 69-year-old former Moonlighting star grabbed the mic in 2004, she had something a little different in mind.
Cybill's original song, The Menopause Blues, was hailed by women everywhere as the new anthem for the menopausal female.
(Haven't heard it yet? Get ready for the best 2 minutes and 20 seconds of your day.)
Yet here we are fifteen years later, and there is still strong societal resistance against openly discussing menopause, leaving many women in the dark about what to expect during this inevitable, and totally natural, phase of life.
Luckily, hard facts have a way of changing perceptions, no matter how ingrained.
In the past decade and a half since Cybill started speaking up, we've uncovered some pretty interesting insights about menopause. Some of them may surprise you.
4 fast facts about menopause everyone should know
Fact #1: 6,000 women reach menopause every day
That's over 2 million per year in the US alone.
According to the American College of Obstetrics and Gynecologists (ACOG), while life expectancy has increased over the years, the age of menopause hasn't changed in centuries.
Today, women are living as much as half of their lives post-menopause. Why should such a large constituency of our population feel silenced, or even ashamed, over something so natural?
We can't think of one good reason.
Fact #2: 27 million working women experience menopause each year
The shroud of silence surrounding menopause becomes even more worrying when you consider that approximately 20% of the US workforce is quietly combating symptoms like headaches, hot flashes and the crippling side effects of insomnia at work every day.
In her tell-all editorial for Fast Company, Executive Vice President of the Center for Human Capital Innovation Anne Loehr reveals that the majority of these women are afraid to admit what they're going through because the men in the office simply don't want to talk about 'women's health issues.'
'Why is no one talking about an important topic that affects 27 million people at work every day?' Loehr asks, 'We can talk about breast cancer, pregnancy, obesity, and more, yet have been silenced on this topic.'
Loehr herself was warned against openly writing about menopause, an act that could potentially limit her professional options or reinforce the stereotype that 'women are weepy and unreliable'.
Of course, she did it anyway. (Way to go, Anne!)
Fact #3: Menopause can start as early as age 35
One of the biggest myths surrounding menopause is that is only happens to 'old people'. 
First off, if 'old' is the first word that comes to mind when you look at a 63-year-old powerhouse of a woman like Geena Davis, you need to have your eyes (and possibly your head) checked.
While the average age for menopause is 51.2 years old, the surprising truth is that women can experience symptoms of menopause anywhere from five to 15 years leading up to menopause.
It's called perimenopause and it's a very real condition.
For example, Downton Abbey star Phyllis Logan started menopause in her 40s. Logan is just one in a long list of women who enter this stage of life earlier than anticipated, but because of the longstanding taboo surrounding this topic, many women are caught completely off guard when they begin experiencing the symptoms of perimenopause.
Fact #4: Menopause is NOT a bad thing
Last, but certainly not least, it's time to finally put to bed the puritanical idea that women are devoid of value once their fertile years are behind them.
It's dated, damaging and flat-out untrue.
'When you know what your symptoms are and how to deal with them, it becomes much easier to see menopause for what it really is — an exciting time of personal growth, unparalleled freedom and sky-high confidence like you've never experienced,' says OB/GYN Dr. Sarah de la Torre.
OB/GYNs like Dr. de la Torre have treated menopausal women from all walks of life—they know better than anyone that a menopause diagnosis is nothing to be ashamed of.
Quite the opposite, actually.
According to a recent study by Refinery29 and AARP, 61% of the women surveyed said they believe they are beautiful at any age. And why not?
For many women, the pressures of child rearing, body shame and other flawed, socially-conditioned ways of perceiving womanhood tend to lift like a veil during menopause. They feel calm, confident and proud of what they've accomplished.
So if, like Cybill, you've got those 'hot-swingin', non-ovulatin' menopause blues,' never fear.
There's still plenty left to sing about.