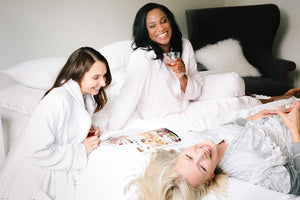 Let's Celebrate Menopause Together
For far too long, menopause was discussed in close-quarter whispers, if it was discussed at all. But I am ready for this message to change, aren't you? As our bodies go through a perfectly normal and healthy transition, we need to do more than say goodbye to our periods while begrudgingly welcoming hot flashes.
We need to make the most of our years ahead. Remember, menopause is nothing more than a response to nature. We've learned to focus on the physical challenges, but what about our bodies' beauty and how they've adapted in a necessary way that affords us a continued healthy life?
This life transition is filled with so much meaning. So rather than mourning the loss of the body that once was… I say it's high time we celebrate menopause and all it brings!
What Does It Mean to Celebrate Menopause?
The idea of celebrating menopause doesn't mean we grin and bear our symptoms or paint on a fake smile as we ignore our dry vaginas. There's no need to hide any of the challenges menopause presents. However, it's time to stop solely focusing on these challenges and choose to invite in the strength our body has offered us through the years … and will continue to for years to come.
Think about it. Have you ever stopped to marvel in all that your body has given you? It carried you through the bumps and bruises of childhood. Maybe through the triumph of some incredible feats of strength and determination. Like athletics or motherhood or a physically demanding job. Some of us have overcome injury or illness or loss.
You carry all of these things with you into menopause—all of these beautiful scars that tell your life story. I can't think of a better reason to celebrate. Can you?
So, How Exactly Do You Celebrate Menopause?
You've probably learned through the years there is no better way to find support than through solidarity with other women. Millions of women all over the world have discovered menopause celebrations in a variety of ways, including:
Coffee meet-ups
Dinner parties
Book clubs
Mini retreats
Outdoors adventures
Spa days
Whatever way you choose to celebrate, think of it as a rebirth. You are laying to rest parts of you that served you well in the past. And inviting in exciting new ways to explore creativity, find purpose, and develop stronger bonds throughout your midlife.
What About a Menopause Party?
Menopause parties are gaining in popularity, and for a good reason. They can be downright fun! They can be reminiscent of baby showers or bridal showers, but it's always a great idea to get your creative juices flowing. Here are some ideas:
Have a themed party. Take it back to your favorite music era, a beloved movie or time period, or even a special vacation spot. Dress up and have a themed cocktail or mocktail with your pals.
Break out all the dishes that never get used and have an elegant dinner party.
Tastings are always fun, whether it's wine with food pairings, global cuisines, or ice cream sundaes.
Bring in dance instructors to host lessons for Latin dance, line dancing, or any style that suits your fancy.
Set up outdoor seating, throw up a sheet, and project your favorite flicks for a movie night.
No matter your style, the importance of a menopause celebration is to empower the women in your life (you included!) in a positive way. Connect with your tribe, make memories, prioritize your intimate wellness and honor the female body as you continue to strengthen and build a beautiful life.