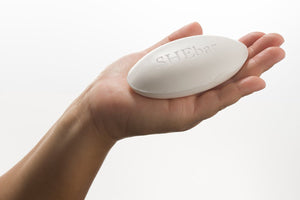 Say nope to soap - Use this instead
Maintaining Intimate Health With Our New Natural Vaginal Cleanser
Cleansing your vulva is a sensitive issue, literally. Soap can irritate the delicate vulvar skin, causing redness, inflammation, and itching. Plus, the vulva is the last line of defense for your vagina, so anything you put on or near your vulva matters to your overall intimate health.
That's why I recommend avoiding products with harsh chemicals, hard to pronounce ingredients, and potential allergens. These include perfumed soaps, bubble baths, and deodorant products explicitly marketed for intimate areas.
Your vulva needs some TLC to promote increased vaginal hydration and a balanced pH — especially during and after menopause when decreased estrogen levels cause drier skin.
The good news is…
I've been working behind the scenes for over two years to develop a product made from nourishing ingredients that promote skin hydration. Many women from the Joylux community shared that they love bar soap, but they don't love the dryness and irritation that comes with using it.  On my trip to Morocco, I found the exact ingredients needed to make the perfect soap to support delicate vulvar skin.
Introducing: SHEbar from Joylux - A Natural Solution For Maintaining Intimate Wellness
That's why I'm happy to Introduce SHEbar- an intimate soap containing coconut, argan, and avocado oils, all inspired by my discovery in Morocco. One of our key ingredients, mandarin orange blossom, gives all of our products a sweet, subtle fragrance of citrus. Plus, mandarin oil has antibacterial properties to promote healthy skin.
This soap-free french-milled bar provides a rich, luxurious lather for a gentle, smooth, and nourishing cleanse for your delicate tissue. Like all of our HER Intimate Care products, SHEbar was Ob-Gyn formulated and tested to help with vaginal wellness. It is pH balanced for our intimate skin and is free of all harsh ingredients and known irritants and allergens — including parabens, phthalates, petrochemicals, and alcohol.
Enjoy the convenience of a bar in a clean, pH-balanced, delicious formula. I hope you are transported to your happy place each time you use SHEbar.