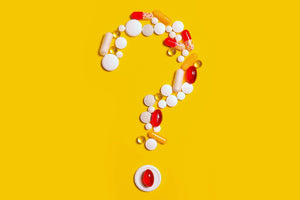 Do I need vitamins, and what do I look for?
The decline in your estrogen levels influences your overall health. Your bones lose density. Your skin, hair, and nails become drier and more brittle. Sleep is harder to come by. Plus, everything from your brain to your heart and your reproductive organs changes as you transition through menopause.
Your primary support system against these changes is a healthy lifestyle. Maintaining regular activities, eating well, and managing stress will help vaginal wellness during menopause and keep a balance within the body. But sometimes, you may need additional dietary support from supplements when you're not getting enough vitamins and minerals from food. Let's go over some essential vitamins that support your body during menopause and what to look for when sourcing supplements.
Can Vitamins Support Menopause?
When sourcing supplements to support menopause, it's essential to find ingredients that address common issues. There's no one-size-fits-all vitamin to help maintain balance in the body. So, you may need more than one supplement.
Let's look at some common ways to support your body as you transition during menopause:
Sleep support: Progesterone is a key hormone to support sleep. When the production of progesterone slows, your sleep patterns get disrupted. Another common cause of sleep disruption is hot flashes. These sudden surges of heat to cool the body may leave you drenched and needing to change your nightwear. When looking for sleep support, look for natural ingredients that help you feel restful and support occasional stress and healthy cortisol levels.
Hair, skin, and nails support: Estrogen supports the production of collagen and ceramides, which keep the skin plump, firm, and elastic. As your estrogen levels decline, your hair becomes thinner and more brittle. You'll notice your skin gets drier, and your nails break more easily. You may also notice you get a lot itchier and are more prone to skin irritations. Biotin is an essential supplement to increase strength. Plus, keratin extracts are a great way to support your hair, skin, and nail health.
Menopausal support: Certain botanicals may support menopausal changes that cause occasional discomfort. Specific nutrients found in botanicals and herbs may support healthy estrogen levels while promoting balance in the body.
How Do I Know What Vitamins To Trust? 
When sourcing vitamins and supplements, it's important to not only look for what's in them but also what's not in them. Look for high-quality ingredients that are known to support your body. Also, pay attention to the inactive or other ingredients. You want to avoid vitamins that have unnecessary fillers, additives, dyes, and other harsh ingredients.
It's important to speak with your healthcare provider when considering a new supplement and vitamin regimen. Make sure to discuss any medication you are taking or any concerns you have before starting a new vitamin.
We talk with women daily about how to improve intimate health and support their bodies as they go through menopause. We heard you loud and clear that you want products you can trust, sourced from the best ingredients possible.
That's why we're excited to announce the launch of our new vitamin line. Watch your email for more information about this product line.