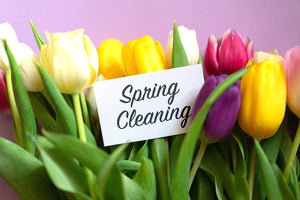 A new look at spring cleaning
As the winter skies clear, spring is here to remind us to declutter, re-organize, and invite in something new. At Joylux, we are huge fans of self-care rituals— and a major part of self care is creating an environment in your home that makes you feel at peace.
That's why we put together our four best practices to turn your home into a sanctuary.
Spring Into A Peaceful Sanctuary
Conquer Clutter: in the past year, our homes are no longer where we return at the end of a long day. We now live, work, and spend our free time there. This means having a clear, tidy space is more important than ever.
One of our favorite ways to declutter is organizing in boxes. Grab a few containers and label them with three goals: put away, throw away, give away. Start with a single room or space in your home. Organize your clutter according to these boxes. When finished, take action (don't just leave filled boxes to deal with later). 
Use Rooms with Purpose: Every room in your house has a function. It's time to use the space for exactly that. Dining rooms aren't there to sort mail. Spare bedrooms shouldn't hide away junk you don't know what to do with.
You don't need to remodel your home to make a room functional. You can start by getting rid of anything that doesn't support the normal function of that room. Then come up with ways to organize your furniture, add a little color, and make the space inviting. This could mean adding candles and plants to your bathroom, building a bookcase in your home office, or moving your home office from the dining table to the spare bedroom.
Bring Nature Inside: Being stuck indoors a lot more than usual doesn't mean you need to miss the outside completely. Seeing green relaxes and soothes the brain. So adding a little nature to your home will give you a much needed mental lift.
We recommend adding houseplants to spaces you spend a lot of time in. Also, bring home fresh flowers once a week and set them where you'll see them often. Setting out bowls of fresh lemons in the kitchen is another great way to add a pop of color and natural scent to your space. If your home doesn't get enough natural light, add a Happy Lamp to the space you spend the most time. 
Create Space for Self-Care: Self-care means something different to everyone. But having a suitable space to relax, unwind, and pamper yourself is non-negotiable. Here are a few ways to  invite a little more self-care into your home:
Create a small meditation space with pillows, candles, sage, and soft lighting.
 
Add plants, flowers, and candles to your bathroom.
 
Add a comfortable chair with a small side table to your bedroom for reading.
 
Place a small basket by your bed with your favorite moisturizer, a journal, and a sleeping mask. 
As you know, Joylux is big on self-care. We also believe in products that support both intimate health and overall wellness without using harsh chemicals, unnecessary additives, or questionable ingredients.
That's why we're excited to announce our newest product lines. Women reached out asking for help with three of the most challenging menopausal changes:
Support for sleep health 
Support for changing hair, skin, and nails
And overall menopausal support. 
We've developed a new vitamin line made from the best-sourced ingredients to provide you with the right support.
Additionally, we've developed even more products to provide you with vulvar health support as your body changes. Our SHEbar is an intimate soap enriched with coconut, argan, and avocado oils. Plus, we're adding a new Photonic Gel and Photonic Wipes to help care for your vFit intimate wellness device.
These products are launching soon, so watch your email for more information.