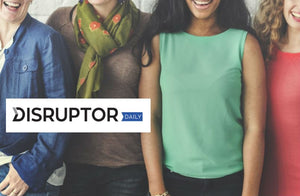 Joylux: Solving a Problem That One Third of Women Experience, But No One is Talking About (Disruptor Daily)
This post is part of our new Future of Health series which interviews the leading founders and executives who are on the front lines of the industry to get a better understanding of what problems the industry is facing, what trends are taking place, and what the future looks like.
The following is an interview we recently had with Colette Courtion, CEO and co-founder of Joylux.
1. What's the history of Joylux? Where and how did you begin?
CC: Joylux started 3 years ago as I was getting ready to become a mother. In asking my girlfriends for advice, they started sharing some of the physical changes of childbirth and aging.
At the time, I had no idea pelvic floor disorders were such a universal and debilitating issue. I started thinking about how to apply my background in medical aesthetics to create an elective and convenient product to improve the pelvic floor health for millions of women. That's how Joylux began. Our mission is to empower women to live their best lives and take back control.
2. What specific problem does Joylux solve? Who are you solving it for?
CC: Joylux has created a wellness solution that tones and strengthens the pelvic floor, and relieves the signs of childbirth and aging. By restoring confidence for the 1 in 3 women suffering from these issues, allows women to live their best lives and to not hold back from doing the things they love.
3. What is your solution to their problem?
CC: We have created the world's first home-use wellness solution that uses a patent-pending combination of LED light, gentle heat, and sonic technology to help restore intimate wellness. It is a non-hormonal, noninvasive, vaginal wellness device designed by a team of women and leading gynecologists to help women take control of their intimate wellness.
4. How big of an opportunity is this? (Market size, statistics, potential, etc.)
CC: Conservatively, more than one in three women suffer unnecessarily from pelvic floor disorders, like stress urinary incontinence, also known as bladder leakage. These women can't sneeze or cough without crossing their legs, can't do certain exercises, and can't run around with their children. In a survey of 2,300 women that we completed, 50% suffer from bladder leakage and 65% suffer from dryness and pain. There seems to be this idea that these limitations are normal, the typical effects of childbirth and aging, so women just accept this reality.    
5. What's been the most challenging part of being a female founder?
CC: The fact that the business world is predominately men has made it initially challenging to gain funding. Women get it right off the bat but I'll go into pitches with male investors and I have to work twice as hard to make the problem personal for them as well as educate them on the challenges women are facing.  It can be challenging when there is such a divide between the typical investor and our target market.
6. What advice do you have for other female entrepreneurs?
CC: As a woman, you'll have to fight harder than most. Allow your passion for your industry and product to show through, as people sense genuine passion. Make your product relatable to your audience and find an emotional connection with them, which women tend to do intuitively. Don't be afraid to reach out to other women for help, connections, and support. Nearly all women I have met have been happy to share their time and expertise and are a tremendous resource.