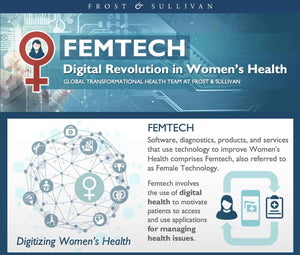 vFit and the FemTech Revolution
We can't seem to get through a single television show these days without being bombarded by the classic erectile dysfunction ad. You know the one: a beautiful older woman stares dramatically into the camera and explains how a product that helps her male partner improves her life.
Advancements in women's intimate health have been put on the back burner in exchange for men's health and immediate gratification-based remedies, such as men popping a pill before hopping into bed, or a quick surgery for male sterilization. Women have been marginalized and overlooked when it comes to both intimate and overall health. According to this article from The Guardian, only thirty-one percent of women are included in clinical trials for medical advancements such as preventing cardiovascular disease.
This gender bias is potentially threatening, as Senior Policy Strategist at the Breast Cancer Fund, Nancy Buermeyer, explains. Neglecting women from medical research is dangerous since, "looking at how chemicals impact [organs such as] mammary gland development is pretty important if you're trying to accurately describe how a chemical impacts women's health".
The cure?
Female Technology (FemTech, for short): medical development by women, for women.
FemTech is a new sector covering diagnostics, products, and services that focus on women's health, including reproductive health, pregnancy and nursing, pelvic and uterine healthcare, and general female wellness. Best of all, FemTech companies are founded and led by women. Companies like our very own Joylux, producer of vFit and vSculpt, are forerunners in FemTech. Instead of neglecting women's health, businesses are now specializing in it. 
As the team at Frost & Sullivan puts it in their FemTech article on the Digital Revolution in Women's Health, with the rise of the "she-conomy, women are increasingly playing an influential role across the healthcare continuum as consumers, decision makers, healthcare professionals & caregivers."
FemTech targets 50% of the population – the same 50% that does essentially all household healthcare spending. Big corporations are taking notice. For example, Merck for Mothers is a half-billion dollar initiative focusing on maternal and infant health and Novartis is focusing on female clinical research and tailored therapy.
Tech for women is BIG BUSINESS because women have increasingly more purchasing power and influence. End-to-end customized solutions are appearing in fertility tracking, pregnancy care, urogenital health and more – all driven by interactive digital health applications. And, because women are 75% more likely to use digital tools for healthcare than their male counterparts, it's no wonder FemTech has become a top-five investment area.
This is where Joylux and their revolutionary device, vFit, come in – with a technology as bright as it is powerful. OB/GYN designed, vFit is a non-invasive, non-hormonal, home-use intimate wellness solution. Founder and CEO Colette Courtion understands that millions of women are seeking improved sexual function and intimate wellness. 
Proven to improve confidence and intimate wellness, vFit is the FemTech solution women have been waiting for. Whether you choose vFit or vFit PLUS (our professional strength model available exclusively through doctors), you are on your way to a more confident you.
Maybe this year, we'll instead see a handsome man on TV discussing the merits of his wife's pelvic floor health and its effect on his sex life. Now that's an ad we wouldn't skip!