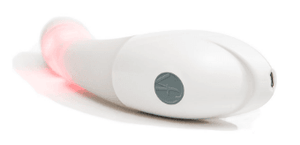 vFit Intimate Wellness Solution Launches in the US to Help Break the Silence on a Taboo Topic Impacting Millions of Women
SEATTLE, Jan. 23, 2018 /PRNewswire/ -- Joylux, the innovative health technology company creating LED-focused intimate wellness products for women, will launch vFit in the United States. Designed with postpartum and postmenopausal women in mind, vFit is the world's first noninvasive, hormone-free intimate wellness solution incorporating a patent-pending combination of red light (LED), gentle heat, and sonic technology for use at home. With vFit, Joylux strives to empower women across the country to be confident, spontaneous, and able to do the things they love. In an independent survey of over 2,300 women, 95 percent said vFit is a product they need to help them feel more confident again.
"I've experienced firsthand how vFit has improved the quality of life of my patients. I believe any woman who has gone through childbirth or menopause can benefit from this innovative technology," says Dr. Sarah de la Torre, Ob/Gyn.
vFit is the brainchild of high-tech beauty executive and mother Colette Courtion, who designed vFit in partnership with gynecologists and leading experts in the field of laser and light science. After her own experience with childbirth, Courtion realized there were few options available to help women feel like themselves again after going through life's milestones. With input from more than 2,300 women who shared personal insights into their intimate health experiences and what they would like to see in a home-use solution, vFit was born.
"I've spent most of my career working with advanced technologies and developing products for aesthetics. After the birth of my son, I discovered there was a lack of product innovation in pelvic floor health. I had an "aha" moment, which lead me to create an intimate wellness solution using the same scientific principles as in advanced aesthetics," said Colette Courtion, Joylux Founder and CEO. "I'm thrilled our team now has the opportunity to help improve the health of millions of women with vFit."
In a third-party study, women who used vFit after 60 days reported the following results:
95% reported improved vaginal wellness,
89% experienced more pleasure from intercourse,
84% felt improved vaginal sensation, and
100% reported feeling more confident and more emotionally connected to their partner.
Retailing at $395, vFit will be available at www.getvfit.com. vFit+, the professional model, retails for $495 and will sell exclusively through physicians' offices beginning in February. To enhance vFit's performance, Joylux also offers a proprietary Photonic GelTM infused with hyaluronic acid and aloe that retails for $25.
About Joylux, Inc.
Joylux, Inc. (www.joyluxinc.com) is a global health technology company creating innovative products to transform women's intimate health and empower women to live their best lives. Please contact Heather Dazell at 206-219-9526 or heather@joyluxinc.com for press inquiries.