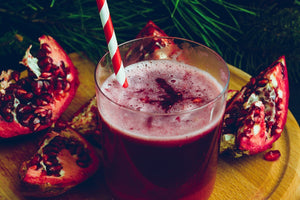 5 Holiday Cocktails and Mocktails for Your Holiday Gatherings
Whether you want something to sip by the fire or hosting a big holiday party — festive drinks are the perfect addition to your holiday menu, and create a feeling of intimacy amongst your guests. To help bring cheer to your gatherings this holiday season, the team at Joylux has put together a list of our favorite tried and true holiday cocktails and mocktails you and your guests will love.
White Chocolate Peppermint Martini
Move over, Starbucks! This White Chocolate Peppermint Martini recipe from Inspired by Charm makes the perfect fireside toast after a night of caroling. It's the perfect balance of sweet and creamy and looks gorgeous with a peppermint candy rim. 
What you'll need to make this cocktail:
1.5 ounces white chocolate liqueur - (Godiva)

1.5 ounces vanilla vodka

1-ounce creme de cacao - (clear/white)

1 ounce half and half

.5 ounce peppermint schnapps

White chocolate syrup and crushed peppermints to garnish
Holiday Sangria
If you're entertaining, this holiday sangria by Modern Proper brings the very merry to your party. This delicious blend of wine, brandy, fruit, spices, and herbs is easy to make ahead of time and develops more decadent flavors the longer it steeps. 
What you'll need to make this sangria:
1 (750 ml) bottle red wine

1 cup brandy

1/4 cup sugar

2 cups cranberries

1 orange, sliced

1 apple, cubed

2-3 cinnamon sticks

4 star anise

4 sprigs rosemary, plus more for garnish

1 bottle sparkling apple cider, chilled

Equal parts cinnamon and sugar, for rimming the glasses, optional
Holiday Cheermeister Bourbon Punch 
Nothing warms you up for the holidays better than bourbon. This bourbon punch by Half Baked Harvest is the perfect drink for an intimate Christmas Eve toast, and looks gorgeous when you dress it up with the fruit and herb ice cubes suggested in the recipe. 
What you'll need to make this punch:
4 ounces (1/2 cup) bourbon

1 cup pomegranate juice

Zest of 1 orange

1/2 cup freshly squeezed orange juice

1 (750 ml) bottle Prosecco or sparkling wine, chilled

Arils from 1 pomegranate
Mistletoe Mule Mocktail 
This festive non-alcoholic, mistle mule mocktail by My Sequined Life is sure to be a crowd-pleaser. It comes together in minutes and is a great way for kids and adults alike to ring in the New Year.
What you'll need to make this mocktail:
Two cans of lime bubly sparkling water

Four ounces of ginger beer

Four ounces of apple cider

Fresh limes (for squeezing and garnishing)

Ice
Ginger Basil Grapefruit Spritzer
Try this Ginger Basil Grapefruit Spritzer from 1-2 Simply Cooking if you want to get a little fancier. You'll want to make the basil simple syrup ahead of time to ensure the flavors develop. 
What you'll need to make this spritzer:
1 grapefruit; plus additional grapefruit for garnish

2 cups of ice 

3 x 12oz cans of ginger soda

A handful of fresh basil

1/4 cup basil simple syrup
Basil simple syrup
1  cup sugar

1  cup water

1 cup loosely packed fresh basil