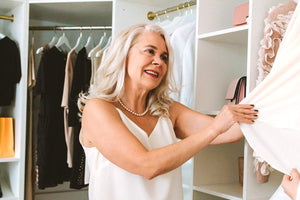 6 Essential Ways to Accessorize for the Holidays
Whether you're hosting a Christmas party or ringing in the New Year at a fancy gala, you can perfect your outfit with the right accessories. Below are six ways to dress up your look for the holidays.  
Keep it minimal 
You want to make a statement when you enter the room. But you shouldn't try to do it all with statement earrings, a statement necklace, large bangles, rings, and a fancy shawl. When it comes to showing up in style, less is more. Choose one statement piece that works as a conversation starter but doesn't draw attention away from the main event — which is you. If you choose a bold earring set, stick with it and minimize everything else.  
Put your best foot forward
Shoes are often the most challenging part of an outfit. When it comes to picking the right pair, sometimes your best bet is to go with what will keep you comfortable all night. Over-the-knee boots or booties will work best if you're walking a lot. If you're going for a classic look, try a close-toed heel that's at a comfortable height for standing. 
Bring the bag
Clutches are the perfect accessory for your holiday wear and can make a statement when you enter the room. Depending on how much you need to bring with you, a clutch might not do. If this is the case, opt for a beaded bag that will fit everything you need while still complimenting your look. 
Dress up your hair
If you're like most of us, you haven't had many chances to dress up since New Year's Eve of 2020. So, why not make the night extra special by adding a hair accessory? Bedazzles, hairpins, combs, and clips are a great way to add a little glam to your look without distracting from your outfit. 
Cover up in style
You'll want to keep warm on the way in and out from your holiday events. Blanket scarves, ponchos, shawls, and stoles add volume to your look and can also bring a hint of vibrant color. You can also wear colorful tights to keep your legs warm while enhancing your look.
Be bold with color 
There's no better time to pile on vibrant reds than during the holidays. Matching your lips, nails, and accessories is a great way to draw attention during your events. When all your pieces are the same hue, you look polished and poised without going overboard. Try a bold red lip, nails, and shoes to bring a little vibrancy to your look.
If your holiday parties call for glitz and glam, accessories are a great way to dress up your look without breaking the bank. There are numerous ways to accessorize your outfit for any holiday party, so you can wear the same dress and style it in different ways. Accessories are also a great way to make something old again, so you don't have to fret about finding the right dress — it's likely already in your closet.