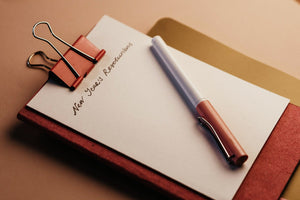 How to Make a New Year's Resolution You'll Actually Keep
Year after year, the clock strikes midnight on New Year's Day, and we make a bold promise to ourselves. If you're like many people, that promise is broken by Valentine's Day. This year, if you're ready to make a resolution for 2022 that you'll finally keep, we have the right plan to make it happen. 
Focus on one thing
All significant changes happen in steps. You can't lose 50 pounds until you lose that first one. So, if you want to make a big change this year, start by focusing on one thing. Many people mistake trying to overhaul their entire lives, which isn't how our brains work. 
Think of these changes as habits you are incorporating into your life. You'll want to replace one old habit with a new one. If we try to replace too many habits at once, our whole system gets derailed. Let's say you do want to lose 50 pounds this year. 
The first habit you change is something simple like getting up 30 minutes earlier to go for a morning walk or switching from mayo to mustard. 
Make your goal concrete
Saying something like, "I want to lose weight" or "I want to exercise more" isn't a concrete goal. It can mean anything, and the less attached to your goal you are — the less likely you'll achieve it. Try setting a goal with an achievable number and due date. 
Sticking with the weight loss goal, try this. Let's say you want to lose 50 pounds this year. Set a goal to lose ten pounds by March 31st. Then you can set a goal to lose the next ten pounds by May, and so on.  
Plan for success
Don't just say your resolution out loud because you feel you have to. Set your mind to it, and make a plan for it. If you want to run your first half-marathon, write out a list of what you need to make that happen. This could include the right apparel and shoes, your playlist or podcasts, whether or not you need a trainer, the times of day you can train, and so on. 
It's crucial to leave no room for excuses, and when you plan, you're more likely to stick to your goals. 
Pick a day to start
New Year's Day is usually not the best time to start working toward your goals. If you set it on that day, you'll likely put it off. So choose a date when you want to start. If you plan for it, that start date will work in your favor. 
As you plan your resolution, think about what you need to start. Make a list and work backward from there. If all you need is your mind and body, you simply have to get prepped. But if you need to order items, schedule meetings, or plan events — that start date might be a bit in the future. 
Reward your milestones
If you set out to achieve a big goal, you lose sight of what you're after because it feels so far away. Set milestones for yourself along the way and schedule small rewards. If you're training to run a half-marathon, reward yourself with new jogging shorts when you hit your first 5K. If you're cutting out alcohol, keep track of all the money you're saving and treat yourself to a spa day when you save your first $200.  
Whatever your plans and goals are for 2022, remember your path to success begins with small steps.