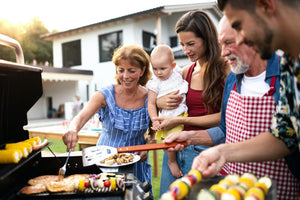 Make Your Memorial Day Cookout Unforgettable!
Memorial Day is just around the corner, and what better way to celebrate than hosting friends and family for a cookout? As you gear up for a fun-filled day of outdoor festivities, it's essential to have a repertoire of delicious snacks, refreshing drinks, and mouthwatering entrees to impress your guests. In this blog, we'll explore some unforgettable ideas that will elevate your Memorial Day cookout to new heights. Get ready to savor the flavors of summer and make lasting memories with family and friends.
Irresistible Snack Ideas
Snacks are the perfect way to kickstart your cookout and keep your guests satisfied while they mingle and enjoy the outdoor ambiance. Here are a few snack ideas that are sure to please:
Grilled Corn Salsa
Create a vibrant and tangy salsa by grilling fresh corn and combining it with diced tomatoes, onions, jalapeños, lime juice, and cilantro. Serve it with tortilla chips for an irresistible appetizer.
Caprese Skewers
Skewer cherry tomatoes, mozzarella balls, and fresh basil leaves. Drizzle them with balsamic glaze for a bite-sized version of the classic Caprese salad.
BBQ Chicken Sliders
Grill mini chicken patties and slather them with your favorite barbecue sauce. Place them on slider buns with a slice of cheese and a pickle for a crowd-pleasing handheld snack.
Refreshing Drink Options
When the sun is shining, your guests will appreciate a refreshing drink to beat the heat. Here are a few beverage ideas to keep everyone cool and hydrated:
Watermelon Lemonade
Blend juicy watermelon chunks with freshly squeezed lemon juice and a touch of honey. Serve over ice for a sweet and tangy summer beverage.
Strawberry Mint Mojito Mocktail
Muddle fresh strawberries, mint leaves, lime juice, and simple syrup. Top it off with sparkling water for a vibrant and alcohol-free twist on a classic mojito.
Citrus Infused Iced Tea
Brew a pitcher of your favorite tea and infuse it with slices of oranges, lemons, and limes. Add a hint of honey for sweetness and let it chill before serving.
Delectable Entrees
Memorial Day cookouts wouldn't be complete without satisfying main courses that showcase the best of summer flavors. Consider these enticing entree options:
Grilled Shrimp Skewers
Marinate large shrimp in a mixture of olive oil, garlic, lemon zest, and herbs. Skewer them and grill until they turn pink and slightly charred. Serve with a zesty dipping sauce.
BBQ Ribs
Slow-cook ribs with a flavorful dry rub and finish them on the grill with your favorite barbecue sauce. The tender meat and smoky flavors will be a hit among your guests.
Vegetarian Portobello Mushroom Burgers
Marinate portobello mushroom caps in a blend of balsamic vinegar, soy sauce, and herbs. Grill them and serve on burger buns with all your favorite toppings for a delicious meatless option.
With these snack, drink, and entree ideas, you're well on your way to hosting an unforgettable Memorial Day cookout. Remember to enjoy the company of your loved ones, celebrate the spirit of the holiday, and savor every bite and sip. Get creative, experiment with flavors, and let the joy of summertime cooking shine through. Cheers to a fantastic Memorial Day cookout!