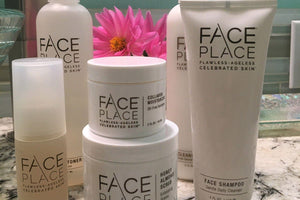 Menopause and Skincare:
6 Must‑Have Products
Our bodies go through many changes in perimenopause and menopause. From brain fog to hot flashes, most women will feel menopause's uncomfortable effects in one way or another. Among these changes, some of the most noticeable and universal signs of aging happen to our skin.
THE BUILDING BLOCKS OF YOUTHFUL SKIN
First, let's talk about the essential proteins that our bodies create to promote skin health…
Collagen is a supportive peptide that is found throughout our bodies. It is a large part of what gives skin its plump, youthful appearance when we are younger, and it aids in skin healing.
Elastin, as you might guess from its name, supports the elasticity of skin. This protein is much more flexible than collagen, helping skin to stay tight and resilient.
MENOPAUSE AND ITS EFFECTS ON OUR SKIN
You may first notice wrinkles or dryness in your 40s, but your skin is always changing.  After the age of 20, our bodies produce about 1% less collagen and elastin each year, which results in less hydration of the tissue. These changes cause skin to look thinner and paler — and over time, more prone to wrinkles.
However, the biggest factor in how skin ages is sun exposure, which can give skin a drier and more weathered appearance over time. This is called photoaging, and it's estimated that it is responsible for 90% of visible skin changes.
With all of these internal and external factors working against us, it may seem impossible to slow the signs of aging. But because we have the knowledge of its causes, it also gives us the tools to find the solutions!
CLEAR, CLEAN, AND SCIENTIFICALLY PROVEN SKINCARE
The skincare specialists at Face Place™ have been pioneers in scientific skincare for nearly 50 years. Trusted by celebrity clients and skincare mavens alike, this Hollywood hotspot is an oasis for clean, clear, rejuvenated skin at any age.
"Nothing is as wonderful and as pure and simple as a Face Place facial. My skin is really healthy and love the way it feels. Everyone looks at my face and wants to know where I go."

– Laura Dern

QUOTE FROM FACEPLACE.COM
As skin science continues to progress, the Face Place product line has evolved as well. They work to incorporate the latest in technology, techniques and ingredients for a simple yet effective home skincare regimen.
Their products are created from natural and botanical ingredients that are proven to help improve skin health, condition, and appearance.
Just like Joylux products, Face Place is sold and recommended by professionals. We believe that they truly stand out from the crowd when it comes to effective menopausal skincare — and when we find something that works, we love to share it with our friends! 
THE SECRETS OF HEALTHY HYDRATION
Like many of you, I find that the older I get, the drier I get. My face was the traditional combination skin — a mix of oily and dry — for most of my life. But lately, I have been having to hydrate more and more just to avoid severe dryness.
Face Place sent me a lovely assortment of facial products so that I could test out their high-tech regimen and see if it could soothe and rejuvenate my dry skin. I did a home facial with my daughter, and I'm so excited to share our thoughts!
My first impression was the packaging — the items arrived in a gift box, and it made me feel like I had purchased a lovely gift for myself. Everything looked beautiful, professional, and high-quality.
A card was enclosed with very clear directions on how to perform the perfect at-home facial, and it was very easy to follow. I loved the "pro tips" that they included, which provided additional suggestions on self-care. These included post-workout tips as well as hand care.
All of the products were gentle and smelled like spa products. We both loved their silky feel and the light but clean smell. Let's take a look at the items we tried:
Cleansing Milk: This rich, creamy makeup remover easily and thoroughly removed all of our makeup after a long day. The non-lathering formulation was gentle enough for my dry skin but worked effectively for my daughter's combination skin as well, leaving us both feeling fresh-faced and makeup-free.
Honey Almond Scrub: This scrub includes a blend of polished grains such as almond meal and white corn meal. The natural exfoliation helps new skin cells to surface, giving a softer, smoother appearance. I know that I don't exfoliate enough, probably because lower-quality scrubs can be irritating to my skin. This scrub, however, was a completely different experience. It didn't feel too rough or drying, and it stayed on my skin nicely as I strode around the house.
Gentle Face Wash: This low-lather, fragrance-free cleanser was so gentle and balancing after the Honey Almond Scrub. It left us both feeling clean, with no dryness or irritation. This cleanser noticeably helped to soothe, heal and normalize our skin with the power of Allantoin, a natural biologic and botanical extract.
Soothing Toner: Their toner is alcohol-free and balanced my skin without causing any dryness. After applying it, my face felt fresh, clean and invigorated. This pH-balanced toner includes botanicals like aloe vera, green tea and seaweed to soothe and nourish.
Pro-Collagen Serum: This silky serum helps the skin's ability to rejuvenate itself and minimize the signs of the aging process. After applying it, my face immediately felt hydrated, smoother, and more supple. Packed with rich plant extracts, it aids in moisture retention and discourages dryness and protects against dangerous free radicals.
Collagen Moisturizer: As a finishing touch, we applied this silky, oil-free cream. It's perfect for an extra boost of hydration, especially before bed when your skin goes into repair mode. It made us feel wonderfully moisturized without being heavy or greasy.
THE BOTTOM LINE — DO FACE PLACE PRODUCTS HELP REJUVENATE MENOPAUSAL SKIN? 
The home facial was wonderful and left us both feeling relaxed and pampered… but the real test would be how long the hydrating effects would last. And I have to say, the next day we were both impressed!
Usually when I wake up, my skin is at its driest, even though I always make sure to moisturize before bed. This is a common experience as we age, and I thought it was something that I would just learn to accept. But now I don't have to!
The morning after our Face Place home facial, my skin still felt dewy and hydrated. My daughter and I were both surprised and thrilled at how soft and supple our faces felt. My experience with Face Place products has changed the way I think about skincare at home. Fighting the signs of skin aging doesn't seem impossible anymore… and in fact, with the right science, I'm amazed how easy it can be!
Visit FacePlace.com to learn more about the benefits of natural and innovative skincare.
Take 20% off your Face Place order with exclusive offer code:
JOYLUX20