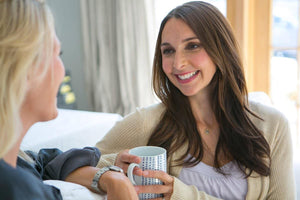 Close Friends Are Key to Your Health
When we were young, friends were the social glue that held us together. Whether it's carpooling to kids' sports, weekend cookouts, or Sunday brunches, our friends kept our social calendar full. But as we age, friendship is the key to our well being.
Once our families are grown and the house is empty, close companions play an integral role in combating loneliness, improving our overall health, and adding years to our lives. Let's dive into why having even a few friends in our later years is vital to our health and discuss ways to nurture relationships and expand friendships as we age.
Why Friends Benefit Our Health As We Age
No matter if you have a close relationship with your partner or a circle of best gals, the benefits of relationships extend beyond fun weekends. As we age, loneliness increases our risk of health issues and can contribute to a shorter life span. A study published in JAMA Internal Medicine found that those who lacked companionship felt isolated and were more likely to struggle with simple daily tasks as they got older. 
In addition to combating loneliness, friendship boosts your mental and physical wellness. Having at least one friend or a partner who understands you, listens well, and enjoys conversing with you improves cognition and reduces your risk of cognitive decline. 
When you have an active companion in your life, you're more likely to keep up with an exercise regimen and try new activities. Friends can hold you accountable and be your partner when you join group fitness or sign up for an event. 
How To Nurture Friendships As We Age
When we're younger, we often see friends by default. Their kids go to school with our kids. We work in the same building or take the same yoga class every Saturday. As we age, life tends to isolate us a bit more. So it takes a little extra effort to keep friends in our lives. 
But, like anything else, socializing needs to be a part of your weekly routine. Once something becomes routine, you can't imagine life without it. The simplest thing to do is stay on top of texting, emailing, and phone calls. Even a short text to let a friend know you're thinking about them goes a long way. 
It also helps to keep a regular schedule of events with friends or your partner. Whether it's a monthly book club, a seasonal pot luck dinner, and Sunday morning walks in the park. Holding each other accountable to planned activities is a great way to nurture the relationships in your life. 
Ways To Make New Friends When We're Older
Your social circle can expand no matter your age. Some great ways to meet new people include:
Volunteering - Find volunteer opportunities that suit your interests, and you'll find like-minded friends.
 
Signing up for a class - Learn a new language, an art medium, or computer skills. You're likely to bond with someone over your new skills.
 
Joining a gym or fitness club - Local gyms, fitness classes, or clubs are a great way to find an activities partner.
 
Get involved in a spiritual community - Local churches and spiritual organizations are a great way to get involved in community projects and meet people that align with your spirituality.
No matter if you have one friend or many, keeping in touch with the essential people in your life keeps you young. I encourage you to reach out right now and connect with those you care about. Even if it's simply to say you're thinking of them.