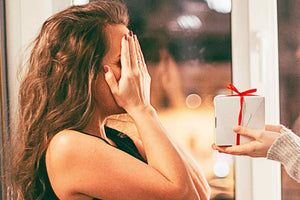 Gift Guide For Perimenopausal & Menopausal Women
During menopause, you may look at gifts a little differently than you did in the past. Long gone are the days of extra-thick slippers or cozy scarves, especially when night sweats and hot flashes kick in.
So, we put together the perfect wish list of practical gifts to ease menopausal symptoms while putting a little smile on your face.
Best Intimate Health Products for Menopausal Women
It's no secret the changes you experience during menopause affect your intimate wellness. One of the best gifts you can give yourself is a little TLC for your sexual health. At Joylux, we are super fans of supporting women during all seasons in life. Our intimate wellness line was designed specifically for women as they go through these changes.
Intimate Wellness Products: As your body changes, so does the pH in your vagina. Having the right self-care products will protect this delicate balance, support moisture, and support the correct pH to stave off discomfort and irritation.
Our top pick: HER Intimate Care
Intimate Wellness Devices: Sometimes, we need a little support with our vaginal health. Especially as our hormones change during menopause. Intimate wellness devices are the perfect way to improve sensation, promote natural hydration and increase pelvic floor strength, all from the privacy of home.
Our top pick: vFit
Best Bedroom Gifts To Ease Night Sweats
It's no secret that waking up drenched in sweat can ruin your entire day. Most sleep disturbance complaints during menopause relate to those hot flashes that creep in while you slumber.
Cooling Mattress Pads: Cooling mattress toppers and pads will change the way you sleep for the better. They are a more practical alternative to buying a new mattress, and some allow you to control the temperature on either side of your bed.
Our top pick: chiliPAD Sleep System
Breathable Sheets: Long gone are the days of flannel sheets. Breathable sheets are a must during menopause. Some fabrics are more breathable than others, which can help avoid heat from getting trapped while you sleep.
Our top pick: PeachSkin Sheets
Moisture Wicking Sleepwear: Nothing ruins a good dream like damp, chilly pajamas. Moisture-wicking pj's are a dream come true as they help you stay dry while getting your nightly shut-eye. These high-performance fabrics pull moisture away from your body, so you feel dry throughout the night.
Our top pick: Yala Design Bamboo Pajama Sets
Best Selfcare for Pro-Aging Skin
As our skin changes during menopause, it's essential to find the right products to support our needs. Go to any store, and you will see eye creams and serums a-plenty. However, many of them make big promises they can't keep. We are here to steer you in the right direction.
Face and Body Skincare: When it comes to caring for your face and body, think of three factors. The first is prevention, which means you'll want a quality daily sunscreen. The second is moisture, moisture, moisture. And the third is the pro-aging factor (we don't believe in anti-aging. Aging is a beautiful thing). So think of things like retinoids and growth-factors that support renewed skin.
Our top pick: Pause Well-Aging
Whether you are looking for the right gift for someone you love, or for yourself, it's essential to find things that truly support your health and happiness. These are all products you will love for years to come.