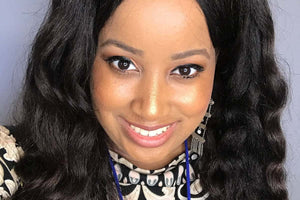 Women We Admire: Arion Long
After health struggles and loss, Femly CEO Arion Long emerged with renewed strength to focus on improving women's intimate health. Joylux caught up with this fearless founder to discuss the ups and downs of her admirable career. 
What first inspired you to create your business?
I started my business after being diagnosed with a cervical tumor that was linked with chemicals in popular feminine products. When I couldn't find a better solution, I decided to form my own simple solution!
What do you know now, that you wish you knew when you began?
I wish I'd known the stats on access to resources and capital for black women in business early on. I think I would've definitely sought a great mentor & advisor much sooner to help me overcome unique obstacles that I've faced.
What is one of the biggest challenges that you've faced as an entrepreneur?
One of the biggest challenges I've faced was navigating grief in the midst of recovering from the stillbirth of my daughter. Nothing prepares you for navigating grief, trauma, and crisis in the midst of running a business. Because of our "hustle hard" culture, many founders don't often take time off and away from their business. As a result, I've definitely increased my awareness of how often I'm taking time for self-care. 
What has been one of your biggest victories?
My biggest victory was landing our first major hospitality deal, while pregnant with our rainbow baby who is now five months old. This not only gave me the courage to consistently show up for myself, I also realized that I didn't need to hide behind my business. My journey and transparency were really what people wanted from me.
Why do you think talking about intimate health so important for women?
Many people still don't realize the dangers that could be lurking in the "harmless" products they require. I've found that this is true across the spectrum from menstruation to pregnancy and beyond.
What kind of hurdles have you faced with fundraising?
In my journey, I discovered that less than 40 black women in history had raised $1M or more from investors, so I knew it would be an uphill battle. What I didn't realize was that more often than not, my experiences, education and ability to lead my company would be questioned. In many ways, Black Americans are at the forefront of culture and drive major business decisions across sectors. As a result, I'm extremely unforgiving in my honesty, ask, and boundaries.
What advice would you give to women about taking care of their loved ones without neglecting their own needs?
My advice would be to actually schedule time for you to find your happy place. This could look like daily meditation, bi-weekly connections with friends, whatever it is — make sure that you are truly taking the time to show up for yourself.